Sachi Seishin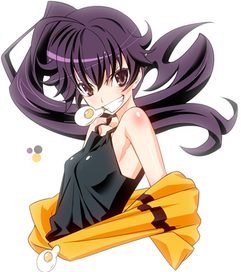 Personal
Birthdate

January 5th

Gender

Female

Age

Fifteen

Height

5"5"

Weight

117lbs

Bloodtype

O

Occupation

Ninja Information
Affiliation
Team
Ninja Rank
Nature Type

Name Here

Background

Childhood:

Along with her brother, Sachi was born and raised Konohagakure, daughter of a single father known as Dojo Master Seishin Rishou. Much like her father, over the course of Sachi's childhood she too developed an shared interest in fighting. Upon the age of ten, she "discreetly" entered and graduated the Ninja Academy, offering her own earned headband to her father as a pact and physical proof that she held interest in the art of fighting. Wanting to undergo training of the Dojo as a disciple. Much to her pleasure, she was accepted to train. Victim to intense physical labors of training.


Present(-ish):

Upon entering her teenage year of thirteen, Sachi quickly found herself rising the ranks in the Dojo world. Before too long she had officially became her father's star pupil. However, little would the Seishin family suspect was the impending doom creeping their way. During a local tournament between the headmasters of respected Dojos, Seishin Rishou had lost a match after sustaining an embarrassing critical injury to his head upon receiving a single attack on round one-- resulting his skull to be become cracked, and ultimately blacking out. With his loss and injury made public in humiliation, the once famous Seishin Dojo became emptied for nearly 2 years. As a final resort to restore the Dojo to it's former glory, Rishou requested his own daughter Sachi to pursue fighting in a far off place for she was technically qualified and skilled too--- And with all that she learned, to go out and show everyone not to overlook the Seishin Dojo. Respecting her father's wishes, her headband was returned to her and she received transfer papers. A month later, Sachi found herself on a boat trip to her new home; Hikagakure.

Personality

Sachi is a lively hot-blooded individual, often finding herself in the midst of trouble with her saviour attitude. Though she may be thought of as stubborn and idiotic for rushing into combat and being easily influenced, she possesses the talent to quickly analyze her situations and opponents thoroughly. She also has a passion for fireworks and training.

Appearance

Sachi wears a weighted (20lbs) Yellow track suit, with the Seishin Dojo's symbol crested on the back. The track suit is often mistaken for as two pieces of individual clothing due to a white colored trimming that circles her waste line. Looking almost like a sash. Unlike most track suits, Sachi's is unzipped from the front. She also wears black sandal shoes, and wears her headband around her neck.

Abilities

Ability #1

(replace with text)

Ability #2

(replace with text)

Accolades

(*)Training/Trainee under the Seishin Dojo.