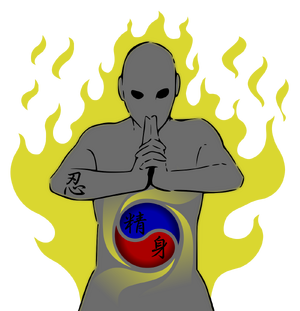 Jutsu
are the mystical arts a ninja will utilise in battle. To use a technique, the ninja will need to use their
chakra
. To perform a technique, the ninja will bring out and release the two energies of chakra. By forming
hand seals
, the ninja is able to manifest the desired technique. Because of the extensive number of hand seals and different combinations, there are thousands of potential techniques to be discovered.
The Basics

There are three basic types of techniques: ninjutsu, genjutsu and taijutsu. Subcategories exist, including fūinjutsu, juinjutsu and senjutsu. There are also kekkei genkai abilities which aren't techniques, but inherited abilities passed down through certain clans (however, they can be used as base for certain techniques, such as Haku's Demonic Mirroring Ice Crystals). Kekkei genkai can also be attributed to certain parts of the body, such as dōjutsu.
Without proper control of their chakra, a ninja will produce ineffective or weakened technique which will lead to them running out of chakra early in a fight. To manipulate their chakra more easily, hand seals can be used. With these hand seals, users can control their chakra and technique with higher efficiency. Different techniques require different hand seals.
Ranks
Depending on the difficulty or skill necessary to perform a technique, they are ranked differently. There are six different ranks in techniques: